What to wear to yoga class... yin, restorative, vinyasa, hot and after.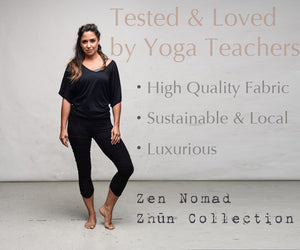 Are you trying to figure out what to wear to yoga class?  Or even trying to organize yourself for some new yoga outfits?  
We put together some suggestions on different styles for different types of yoga classes.
For a yin or restorative class you want to be really comfortable.  
You could wear anything from leggings and a tank, to looser harem style pants and a t shirt, and bring a pair of socks and a light long sleeve to cozy up in.
The Origin tank is great and easy because you don't have to wear a bra with it (it has a built in bra shelf!), it has a great neckline and works with all bust sizes.  Matched with the super cozy Barcelona harem pant and you are set up perfect for total surrender in a restorative or yin class.
Same outfit with the Delphine top in linen over it.  Adding the delphine linen top to any outfit just gives the vibes of easy, breezy style and comfort with a twist of elegance. 
Elvin longsleeve in linen or bamboo makes a great long sleeve for an easy class. Paired here with the warrior legging in bamboo.  This is such a perfect layer for anytime, keeps you cool, keeps you warm.
For a vinyasa class you will want to wear leggings or capri leggings and a tank top or yoga bra.
The Origin tank with built in bra shelf with Warrior yoga leggings are both in super soft bamboo with spandex. The Warrior legging is just a great standard no fuss legging with a low rise and a flattering fit.
Get textured and playful with the Rhythm leggings, and the Delphine top in linen just refines it all, with a nice little Origin yoga bra top underneath.
 The Asymmetrical bra top is an all time favourite with many and the great fitting High Waist Yoga legging lets you show it off without showing off too much of your belly if you don't feel like it. 
 Another all time favourite, the Open Shoulder tank just has a nice easy cut and is in the super comfortable bamboo.
Origin Tank with built in bra shelf and Ellipse Capri in super soft organic bamboo with spandex.  The Ellipse Capri have a nice little calf flattering dip on the hem that elongates the legs instead of cutting them off like straight cuffs do.
Tux tank with Warrior Legging,  The Tux yoga tank, gives you some texture to be kind to the belly ;)
Rhythm Ruche Capri with Origin yoga bra.  The Origin Yoga Bra goes over super well with everyone, a flattering cut and feels good on the body, keeping everything in place.
Symmetrical bra top and High Waist Leggings.  Love this outfit, any dancers?
For a hot yoga class you will likely want to wear as little as possible!
Origin Yoga Bra with High Waist Bike Short (these you can cut to any length you want!)
Delphine top with bikini top and Sungazer Ruche Shorts.  Tiny shorts is pretty much all you will want in a hot yoga class.
Asymmetrical Bra Shelf with High Waist Bike Short (be a stylist & cut shorter if you like!)
Ruche Rhythm Capri and Asymmetrical Bra Shelf. Interesting yet subtly stylish cuts.
And then what to wear over your yoga outfit after or in between...
Batwing top in linen is perfect for class or to throw on after.
Delphine Dress in linen makes a great cover up for quick getaways
Elvin Top in linen and Unisex crossover in Bamboo, the perfect outfit to throw over and go or to lounge around a do some gentle movement.
1 Response
Leave a comment
Comments will be approved before showing up.
---
Also in Blog
Our podcast of conversations with artists, seekers and activists who are inspired, moved by and are interested in a deeper interrelating with nature.
We are posting a blog post from Sarah over at Hum.life because it's a beautiful post on creating a home practice.
Yoga classes are excellent places to learn the poses and sequences, to find the correct alignment for your body, and to find inspiration. But as renowned teacher Rodney Yee says*, "Without making it your own, yoga doesn't mean anything. It's just an exercise class."  
Mindful living is a holistic way of living your life.  It extends from your self, body, mindset, spirit to your immediate loved ones, friends, to your community human and non human, to the natural environment you live in, to the larger world we are a part of and to the effects of our choices on people and places we don't have an obvious contact with.  In Part 1 we explore our self.